Mercer House, 429 Bull Street, Savannah, Chatham County, GA

EAST FRONT
Originally designed for Confederate General Hugh Mercer, great grandfather of Johnny Mercer, by Architect John S. Norris. This particular building is a good example of the Italianate Style.

FRONT AND SOUTH SIDE

Work began ca. 1860. Constuction halted during the Civil War, during which period the original plans were lost.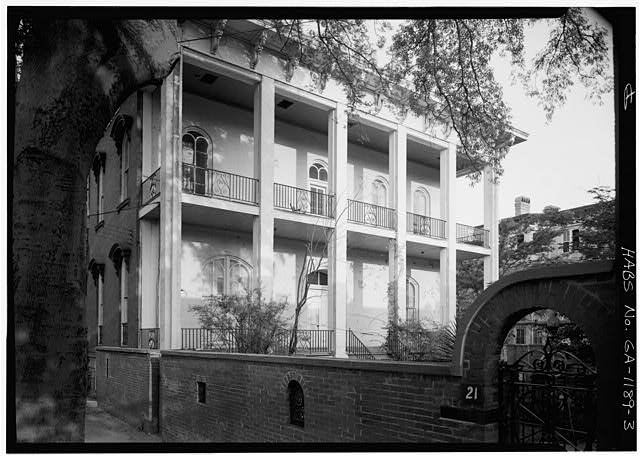 WEST REAR AND NORTH SIDE
Constuction recommenced after the war and completed by Muller and Bruyn.

FIRST FLOOR, NORTHWEST ROOM, SHOWING ARCHED DOUBLE DOORS
---
The Mercer House was purchased in 1969 by art dealer Jim Williams.
The home is featured in the book and motion picture Midnight in the Garden of Good and Evil.
---
---
State Guide
---
SOUTHERN MUSIC
---
Memories last forever. Old films & videos don't.
Save your home movies for generations to come.

EMAIL

or visit

FLEAMARKETTV.COM


---
Historic America
Alabama l Alaska l Arizona l Arkansas l California l Colorado l Connecticut l Delaware l Florida
Georgia l Hawaii l Idaho l Illinois l Indiana l Iowa l Kansas l Kentucky l Louisiana l Maine
Maryland l Massachusetts l Michigan l Minnesota l Mississippi l Missouri l Montana
Nebraska l Nevada l New Hampshire l New Jersey l New Mexico l New York
North Carolina l North Dakota l Ohio l Oklahoma l Oregon l Pennsylvania
Rhode Island l South Carolina l South Dakota l Tennessee l Texas
Utah l Vermont l Virginia l Washington l West Virginia
Wisconsin l Wyoming l Washington D.C. l Home


Amusements l Amtrak l Antiques l A Startling Crime l Aviation Pioneer l Banana Split
Ball Point Pen l Bar Code l BBQ l Blue Jeans l Bubble Gum l Busiest Travel Day l Candy
Civil Rights l Color T.V. l Crime Fiction l Color T.V. l Computers l Department Stores l Dental Drill Patented
Education l Electric Chair l Engineering l Frisbees l Fingerprints l First American Newspaper l First Auto Fatality
First Baseball Game l First College Football Game l First Home Developer l First Jukebox l First Movie Theater
First Phonograph Record l First Radio Station l First Super Bowl l First Telephone Operator l First Traffic Light
First U.S. Hospital l First Woman Doctor l First World Series l Highest Wind Ever l Horse Races l Ice Cream
Linotype Inventor l Minimum Wage l Motorcycle Rally l NBA Formed l New Year's Day l NHL Founded
Outlawing Fun l Patents l Pecans l Pets l Photography l Pony Express l Potato Chips
Scotch Tape l Scrabble l Soccer l Soda Fountain l Soft Drinks l Star Wars
Superman l Tea l Telephone l Tennis l Thanksgiving l Tiffany
Typewriter Patented l U.S. Mint Opens l Valentines Day
Videocassette Recorder l Washing Machines
Worst U.S. Fires l ZIP Codes l Zipper